A+ Fertilizing Services
Below we have described our many services we offer in-depth. We hope you will take a minute to read through them to help you decide what your property needs and what we can do for you.
Pre-Emergent - Ornamental Beds
By applying a pre-emergent, you are getting a barrier over your mulch beds that will prevent weeds from establishing without harming desired vegetation. Does this application prevent 100 percent of the weeds? No, but it will drastically reduce, if not eliminate them all together.
Pre-Emergent - Lawns
Applying a pre-emergent to your lawn is essential in preventing the infestation of crabgrass. In our normal 5-step fertilization program, our customers receive a pre-emergent in the first step. At A+ Fertilizing, LLC., we suggest signing up for an additional pre-emergent application. Crabgrass thrives on heat. With that being said, in the Northeast, we tend to go through heat waves and drought conditions in our summer months. When that happens, the six to eight weeks of coverage from your step 1 application won't last long enough. With a second round, you would be assuring coverage for up to four months of the season, which would bring you through the peak crabgrass season.
Deep Root Fertilization
This allows us to come in with a liquid fertilizer and inject it straight into the root zone of the tree or shrub. This service can be provided at any time of the season. The time of year and the health of the tree or shrub will determine what kind of fertilizer is used. For example, a spring time application for flowering shrubs would be a much different fertilizer than what we would use on a struggling ornamental tree.
Shrub Winterization
Winters in New Hampshire can be brutal. High winds, below freezing temperatures and lack of proper fertilization can do a lot of harm to our ornamentals. We suggest that all ornamental shrubs, not only be on a fertilization program, but it is also essential to winterize them. Our preferred method of winterization is to spray a film on the foliage. If applied at the correct time and temperature, the film will harden on the foliage and protect it from the wind and cold. When temperatures rise in the spring, the film will simply melt away and leaves no trace, just a happy and healthy ornamental.
Tree Care
A+ Fertilizing is always on the lookout to be as environmentally cautious as possible. The days of an applicator spraying a pesticide on a tree is over, at least for this company. We are highly trained and very experienced in using the relatively new technology called Arbor Jet. This system allows us to inject the trees without harming them. It also allows us to use milliliters of chemicals, rather than the gallons that older methods use. Old methods would force us to use a high-pressure spray gun and we would have to drench the entire tree, putting gallons and gallons of pesticides into the air, when then led to drift pollution and possible harm to offsite targets.
Arbor Jet changes all that. Once we diagnose your tree, we are able to drill a one-quarter inch hole into the zylum of the tree. We then put a tiny tap into that hole and we can inject (just like a doctor with a needle) straight into the tree. Because we are going straight into the zylum of the tree, we are able to use a minimum of the product, with no drifting or pollution. For the customers worried about drilling and tapping, please rest assured, it will not harm your tree. The tree will grow over the injection sight, leaving no evidence.
Aerating and Overseeding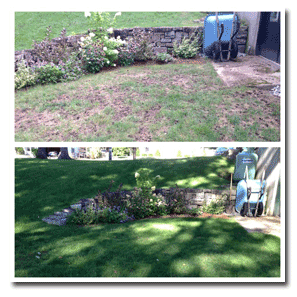 Aerating is a crucial step in a healthy lawn. The method we choose to use is core aeration. This takes plugs of soil from your lawn, allowing better air circulation and the root zone of your lawn to spread, preventing compaction. This is a service we like to offer in the fall. The reason we try to push for fall aeration is because aerating in the spring or summer will disturb any pre-emergent that may be down and at that point could promote crabgrass growth. At A+ Fertilizing, LLC., we also like to suggest over seeding at the same time of the aeration. We try to make our customers relise is, the thicker your lawn is, the less room for any infestation of unwanted weeds and crabgrass.
Soil Sample
A soil sample is a great way to find out what you have for nutrients in your lawn and what it may be lacking. By taking a soil sample, it allows us to see how acidic the soil may be. It allows us the ability to make sure we are providing the exact nutrients in our applications that are required. The test also shows us how the soil is reacting to the nutrients that are present.
Lime
Properties in the Northeast require lime for a healthy, green lawn. Lime helps reduce the acidity of your soil. There are many different varieties of lime on the market. Some types of lime break down quicker, while others offer a more concentrated amount of the product. This is a step may be hard for some people, because it is not a treatment that you notice immediate results from. Without regular lime applications, you will notice your lawn thinning out, more fungus and a lower quality of turf.
We recommend our customers get a minimum of one application per season. Multiple applications per season would produce a higher quality result.
Compost Tea
Compost Tea is a great organic option for feeding your lawn. We have mastered the process of turning compost into a liquid gold mine of nutirients and better yet, micro-nutrients. An applicator can put down all the correct amounts of fertilizer, but that doesn't mean the soil is utilizing all of the nutrients it is being fed. This is where compost tea can be the ultimate tool. We are able to apply the beneficial microbes, which may be lacking in the soil. Benefits of compost tea include improving nutrient uptake, increasing root-depth, retaining nutrients in the soil, and an all over improvement to the soil.
Northeast 5-Step Fertilization Program
Because of our short growing season in the Northeast, we have developed a five-step program. Each step is different and has different benefits for your lawn.
» Read More